*I was compensated for this post. This post also contains affiliate links and I will be compensated if you make a purchase after clicking on my links.
Hey, lovely! Father's Day is this Sunday! Have you found him that perfect gift yet? Well, look no further! I've compiled some of my favorite 2021 gifts for Dad this Father's Day! Read on to shop Dad Best gifts for Fathers Day 2021!
1. Grandpad
Haven't heard of GrandPad?! Well. it is a tablet designed specifically for seniors over the age of 75 who are unfamiliar with or who have difficulty using traditional technology. GrandPad keeps elderly seniors connected to family, friends, and caregivers and helps address social isolation, which can have negative effects on the health of older adults.
Scott Lien and his son Isaac created the GrandPad for Scott's mom and mother-in-law because traditional devices weren't working to stay connected when Scott and Isaac were living in California and their families were in the Midwest. Since then, GrandPad has grown into a worldwide business that is being used to connect more than 1.2 million people — including seniors, friends, families, and caregivers — in 120 countries.
GrandPad comes with built-in 4G LTE connectivity, so you don't need in-home internet or WiFi to use it. This is also important for loved ones who may be in a nursing home or assisted living facility, where WiFi connection can be unreliable.
GrandPad is a secure environment that allows only trusted contacts to call, email, or video chat with the senior user. This protects them from unwanted calls, and email or phishing scams. Trusted contacts use the free GrandPad Family Companion App to call, video chat, or share photos with their loved ones.
GrandPad comes with all of the apps and features older adults love, without the frustrations of traditional devices. GrandPad users love the simple, secure video calling, private family photo, and video sharing, multi-party Zoom calling, secure internet browsing, streaming radio and music content, weather, news articles, and the wide variety of games that come preprogrammed on the tablet. We also just launched a new Moods app that helps reduce anxiety and supports relaxation.
Just in time for Father's Day, purchase GrandPad online at grandpad.net or by calling 1-800-704-9412. GrandPad is a subscription-based tablet and personalized support service. An annual subscription can be purchased for $58 per month (if paid in full, upfront) or $79 per month (pay monthly as you go). Everything you need is included for this price — the tablet, the LTE connectivity, the service, the apps — there are no extra costs or contracts.
One thing that really sets GrandPad apart from other devices is the 24-hour, personalized support that each user receives. That means that at any time, day or night, the GrandPad user can press the red "help" button on their GrandPad and they will be directly connected within a few seconds to one of our highly trained, caring, customer support members who love working with seniors, without having to navigate a phone system or sit on hold.
2. WatchGang
The perfect last-minute gift for dad is a subscription and the world's largest watch club for men,
Watch Gang
,  will send dad a new curated mystery timepiece each month to keep as well as offers the exciting chance to win a Rolex, Tag Heuer, and Seiko every week!
With options ranging from $49-$299 per month (or on your own time frame) and the recipient will be sent a timepiece from well-known and craft brands such as Omega, Timex, Wolf, Out of Order, and more
valued higher than what you paid.
3. CrateJoy
Check out these curated pop culture subscription boxes from Cratejoy!  Choose from Food and Drinks boxes, Beer, Grilling, cigars, t-shirts, vinyl, socks, and more! There are literally 100's of boxes to choose from – each sent to Dad each month! It's the gift that keeps on giving!
4. Hawthorne
Hawthorne is the first personalized brand for all men's bathroom needs starting with tailored cologne. Founded by serial fashion entrepreneurs and childhood best friends who have worked with Hood By Air and Drake, Hawthorne makes it easy for men to be the best version of themselves by using customer body chemistry and lifestyle to deliver tailored personal care products that are right for you.
All you have to do is answer 10 simple questions via their online questionnaire, and Hawthorne will identify your scent preference with over 95% accuracy.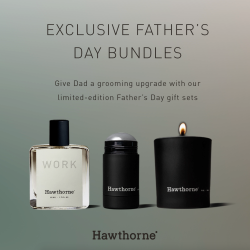 I personally love the cologne and candle sets! You can find some of the best-smelling cologne and Candles, just manly enough-  Dad will be sure to love! From Hawthorne!  I personally love (and my man loves!) the Dark and Woodsy! Some other fun favorites are Pear and Basil Marine, Leathery Sandalwood, and Dark and Cozy!
Limited Time Only – Shop Father's Day sets for $85 ($98 value)!
Limited Time Only – Shop Cologne, candle, and deodorant sets for $85!
5. Star Wars Fine Jewelry
There is a new way to celebrate this Father's Day… To honor the Dad's that are as wise as Yoda™, as strong as Darth Vader™, and as dedicated as R2-D2™… there are plenty of special gifts that all dads that are a fan of Star Wars will enjoy from Star Wars Fine Jewelry.
Share your similar passion for the Galaxy, Rebels, Light Side, and Dark Side with your father. There are seven distinctive fine jewelry collections inspired by Star Wars, so every fan can connect with their favorite character's journey, from R2-D2 to the Mandalorian™. Shop assortments that honor the light side or the dark side. All pieces in all seven collections are beautifully crafted in gold or silver with diamonds and gemstones.
Discover the Father's Day collection on StarWarsFineJewelry.com. Styles range from $149 to $1,599. 
I've also got some sweet Father's Day Deals- Just for my readers! Click the links below to shop the deals! Happy Shopping!
Good Luck Lovely!