*This post contains affiliate links for which I will be compensated when purchases are made.
Welcome to the MyStyleSpot Resources page! Here you can find lots of great tools great for shopping, finding deals, and earning cash back too.
If you're a blogger or thinking about becoming one, I have listed some of the most helpful tools I use regularly on my blog! These tools are even fabulous for brands and businesses too!
Come back to this page often as I'll be updating it regularly!
SHOP MY AMAZON STORE FRONT FOR EASY SHOPPING/DEALS/PRODUCT REVIEWS/VIDEOS  HERE: https://www.amazon.com/shop/cindybatchelor
SHOPPING
In This Youtube Video, I go over some of my favorite sites that help me earn money or save it EVERY time I purchase something o line! Check it out HERE to learn more.
FIND DEALS
Love designer fashion but don't want to spend a fortune? Buy pre-loved designer fashion from SilkRoll.com. Available in tons of sizes, they have a HUGE inventory they're updating every day! You can also send in some of your pre-loved fashion (whether designer or not) and earn credit, you can use to spend in the shop!
Before I visit any site to shop, I visit Dealspotr first. I can find all great discounts, free shipping and more! They list so many new deals daily, you're sure to find a deal on virtually any online site you shop! Membership is FREE! Sign up Here.
This is another good site to get all the latest deals on tons of online shopping sites! They also offer cash back with each purchase!
4. LivingSocial
I've used Living Social a ton lately for finding dining and activities in the area to do, such as comedy shows, sushi-making classes, paint nite and more! All at steep discounts (up to 70% OFF!) as well as book a ton of massages around just $30 for 60 minutes! I even found an amazing deal on Reiki here and have started going regularly too! You can also shop here to, anything from fashion and beauty to home, and they have some really amazing travel deals as well!
I love buying and selling gently used items on this site! It is a great way to save big bucks on designer goods or fashion for women, men, and children- that you don't want to pay full price for!
EARN CASHBACK
It's crazy to not be signed up with a cashback site! Sign up with Ebates and earn cash back for every purchase! All you have to do is visit Ebates, sign in, then click the link to shop the online site you want to shop, and it will automatically add cash back to your count when you make your purchase!
You can earn as much as 8-10% on some purchases and 4-5% on most sites! They also have an easy extension you can download to Chrome to track every online purchase you make and PAY you for shopping! Sign up is FREE!
Sign Up HERE with my link and get $10 For FREE! 
You'll get paid via check or Paypal once your account reaches a certain amount
Shop at home is also another great site for earning cash back every time you shop a store online! I've earned over $600 over the last few years from using Shop at home! I get a check in the mail everytime my account reaches $25! Membership is FREE! Join today and get a $10 bonus!
3. TopCashBack
This is another great site that offers both deals and cash back with purchase! Sign up Here!
Mr. Rebates is a fairly newer site but membership is also FREE and you can earn cash back with each purchase!
TRAVEL 
HOTELS are Hundreds of dollars cheaper than you will find on Kayak, Priceline, Expedia, and Orbitz! And you can get these prices without even being a member, but if you do want to sign up for a membership, you'll SAVE EVEN MORE!
This is another great deal/cash back earning travel and shopping site with an easy to use APP from your phone! 
This is another great app that will track all purchases you make and then actually pay you when items go on sale later! I've earned lots of money this way from everyday purchases. They keep track for a month or so and when an item you bought goes on sale, they automatically contact the company for you and get you your savings!
Similar to Paribus, this app works for both iPhone and Android phones and will help put money back in your pocket when items you've previously purchased go on sale. This works great if you shop Amazon frequently!  Download the Earny App.

BLOGGING/BRANDS
Invoicing clients:
Willa- FREE Invoicing and you GET PAID IMMEDIATELY! Willa adds money to your account immediately, even before the client pays!  + Try it right now and get $50 FREE with your first invoice! it's FREE!
I use Willa for easy invoicing and payments and I get paid Immediately, AS SOON as I send the invoice to my clients! I just add the invoice, and voila! The money is in my account within seconds! Then Willa takes care of collecting payment from my client and all payments for me!
Get a FREE $50 with 1st invoice! And it's FREE! Sign up  with Willa and Get paid immediately HERE: 
Finding a Domain
BlueHost is a fantastic site with awesome customer service and the best pricing I've seen for a legit site! It's just $3.95 a month and already powering millions of sites! Sign up HERE!
This is the site I use for my blog. I've been on this domain for over 5 years now and it has been amazing! They have awesome customer service round the clock and it's just $6.39 a month! Sign up HERE.
This is a great site for brands or bloggers who want to sell from their site! Shopify makes it easy to set up and collect payments from customers! Starting at just $29 a month for your domain! Sign up HERE
Domain/Blog Maintenance
UH OH! Your site has crashed! Its happened to me a few times- my site complete crashes and I go into complete panic mode! Often times your domain site can help you for free, but sometimes (like what happened to me a few years back) a hacker will hack into your site and mess with the code- meaning you need to hire a coder and your domain service provider won't be able to help you with that. Other times there can be wordpress issues too, such as when a new plugin has totally messed with your site (this has also happened to me, a few times!)
I use UPWORK to hire freelance tech professionals for all kinds of tech and blog related problems! It is easy to find fabulous professionals here, see their reviews, hire them easily and quickly, and get your site up and running in no time! It's completely affordable too! Most will do jobs for as low as $30- even for a few hours of work! I've used it many times!
I also highly recommend Umar Farouk (you can search his name on the site) for all your blog, coding, and WordPress related issues! I've used him personally many times and he is amazing and I swear the guy can fix anything! AND he is always available and gets me up and running in no time!

Email Newsletters
An email newsletter is a must these days! I shopped around for about a year before finding my favorite. MadMimi is one of the most reasonably priced and is super user-friendly and easy to use! I had no problem transferring over my 10,000 subscriber list and they have pre-made templates that make sending out a weekly newsletter super easy and quick!
Mobile Text Newsletter
Texts are much more likely to be opened than emails – making it a profitable way to earn cash by sharing exclusive deals with your readers! Slicktext is super affordable – at plans for up to 500 texts a month for $27. You can even try it out for free if you have less than 50 subscribers!
They make it super easy to send out texts, and the site is user-friendly and offers help in marketing and promoting your mobile texting club, like helping you offer giveaways for reader signups! You can even get a 1 on 1 walkthrough with one of their reps to learn how to navigate the whole site before using!
Affiliates
One of the amazing things about being a blogger or influencer is how easy it can be to generate passive income just by sharing the affiliate link of some of your favorite brands and products with your readers! If you're a brand, signing up for affiliates is a must! It's a great way to help get the word out about your brand for a small fee!
shareasale.com is by far my favorite site to pick up lots of affiliate links of tons of the best stores and brands! I've already made hundreds using this site! They also pay you generously (much better than most sites!) when other people sign up with your link too! It's very user-friendly and super easy to navigate to sign up with brands and pick up banners and links to share on your blogs and social media.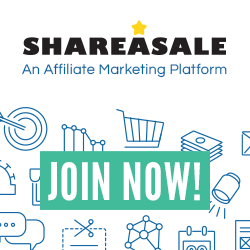 2. Biohm Heath Partnerships -A FAB brand to work with HIGH commission payouts! They make a lot of the creative assets for you and ALWAYS have great deals going on so it's easy to make good $ with them! They also reward their affiliates with cash prizes and product constantly too! I've made hundreds with them already and am always getting tons of product for FREE!
Sign up with Biohm today and start making $!
Sign up today for FREE for awesome blogging opps and affiliate income HERE!
Shoperr Smart Links makes it easy to create a shop of your favorite products and share via social media or blog to your following! It's very easy and quick to use and allows you to share impressive products in minutes!
This is another great affiliate site – easy to use and lots of great brands to choose from!
Rakuten is another one of my favorites with tons of new brands being added daily!
8. BRBYE– Connect BRANDS  with influencers/bloggers for paid collaborations!
Finding Influencer Jobs
By far, some of the best ways to find jobs are by signing up with sites that connect brands and influencers for campaigns. I've gotten most of my paid sponsorships this way (which I make about $5000 a month now doing).
Here are some of the best sites I've had the best luck with, and check each day for new job postings:
You need to have at least 5000 youtube subscribers to get video jobs on Famebit, but you can also score Facebook, Twitter, and Tumblr jobs here too! Thanks to the high requirement of followers on this site, it makes the pool of influencers much smaller and easier for those of us with enough of a following to land jobs!
This is one of the best sites for finding TONS of jobs posted each day. The bad thing is that nearly every blogger is on Tomoson – making it more difficult to land jobs. In the beginning, when my prices were quite a bit lower, I nailed tons of jobs on Tomoson. Brands who post here seem to be looking for smaller, less expensive influencers and bloggers. You also don't need to have a certain amount of followers per channel to apply for jobs here.
3. HypeMarket
Hype Market works specifically with Instagram, although I've approached companies on here and landed blog posts, videos, and other social media shares as well!
Besides finding amazing shopping deals on this site, influencers and brands can also connect here in the Marketplace for campaigns! They set your wage according to your influence, so you may or may not like that depending on what you normally charge.
6. Facebook Blogger/Brand Groups for Scoring Jobs
There are a couple of amazing Facebook groups I check daily for job postings. Most are in the U.S., although some offered are for U.K. You can also easily network with other bloggers in these groups, ask blogging questions, find other bloggers to collaborate, etc.

Blogger Opportunities Facebook Group
Blogger Opportunities Galore Facebook Group
Helpful Influencer/Business Apps
1. SelfieMark
If you're like me, you're always looking for the next big app or social media spot! I love using great apps as a blogger that help promote my blog. I also adore fun fashion and beauty apps that I can showcase my style on too! I ALSO love social media apps where I can interact with others, by being inspired by their own unique style and more!
This is exactly why I've been using and LOVING the SelfieMark app for the last few years! It lets me do all of these things, PLUS it lets me add polls to get advice on what to wear or what color of lipstick to wear with that eyeshadow! You can poll other SelfieMark users for whatever advice you're looking for! The voting is addictive too! You've been warned!
This app isn't just great for anyone who loves to interact with others, but it's also great for bloggers and brands who are wanting to know more about their audience or help spread the word about their amazing products or site! SelfieMark makes it super easy too with a CREATE A POLL plugin for your website you can use, and users who make a poll will show under your account in the app!
SelfieMark also has in-house fashion stylists (like me!) If you're wanting a pro's opinion on what top goes best with that cute striped maxi skirt! It is super fun to use, helpful, and completely addictive too!  I know you're going to love it!
BRANDS: Be sure to check out the SelfieMark biz page www.selfiemark.com/business where you can get more sales and engagement with their fantastic polling solutions! Visit SelfieMark.com to download the app today!
2. Everlance
Everlance is a great app for tracking your mileage for your business. I use it to track shipping packages, drive for photoshoots, to buy product for sponsorships, etc. They offer a free version for those with less than 25 trips a month. It starts up as soon as you get moving and records the mileage and gives you the amount you will save on your tax return! Super Handy!
3. Pocket Video
Pocket Video is a fantastic app for creating and editing videos. I love that it easily lets you set up an Instagram video and gives you the time frame to do it – so no more guessing if your video will fit when you try to upload it to Instagram. It has really great editing features too and allows you to add your own music from your library as well!
4. Later
Later is a great app to use when you need to schedule an Instagram post. It lets you upload it there then reminds you when you need to make it live on IG. It's super easy to then open up IG and post the image and text! They also email out lots of helpful Instagram tips in their newsletter each week too!
5. Stash
While Stash isn't so much needed to blog or do your business, this is a fantastic app for helping you save for retirement by investing (and for those of us who are self-employed, that can be really hard to do!) This app makes investing so incredibly easy and it's fun to use too! You can pick out and buy whatever investments you like without any amount of money! Just remember- Diversity is the key! Spread your money around to play it safe!)
Stash automatically saves your change leftover from making purchases so it makes saving and investing a breeze (you don't have to set up this feature if you don't want to). You can also set up weekly or monthly savings plans to keep you on track for saving and investing for retirement! I've been using it for a year and a half now and love it and have already saved up over $8000 in my Stash 401k.
The fees are $1 a month until you reach $5000 which then jumps to a percentage and after all my research online, I found it's about the cheapest investment agency out there! You won't be handing tons of your money over to brokers with Stash, but will actually get to keep the money you invest! (Research it if you haven't, most investment brokers are ending up with nearly half your money by the time you cash out and retire! Yikes, I know!)
Also, get a FREE $5 to invest when you sign up here!
Helpful Influencers/Tips
YouTube -Sunny Lenarduzzi
Sunny is one of my favorite YouTubers who offers up amazing advice for growing your youtube channel – weekly! I've learned so many helpful tips from her that really work! Check out her channel HERE!
Sell your blog/business
FIH – SELL YOUR BUSINESS or BLOG AND EARN!!! Save hundreds by Listing it for FREE at FIH! Use my code: Q5NZYM and we both save!  List your blog or business here –> http://fih.com
Amazon isn't going anywhere anytime soon! Their reviews make them one of the most trustworthy sites to shop – because you've already read from 100 different people how the product worked for them! It's easy to get started doing reviews and get tons of FREE products for helping sellers share your honest opinion about their product.
Read my blog post here on how to become an Amazon Reviewer ( I made it to #18 in Amazon's top Reviewers when I wrote this post!)
Also sellers: I have a list of over 100 Amazon Reviewers who have signed up personally with me to do reviews, I'm happy to sell at $3 per name!
STARTING YOUR OWN BUSINESS TIPS
Read my helpful article here with all the info to start your new business!
Email me at Contact@mystylespot.net for more info!